Welcome to the May edition of the eNewsletter. I have been out of action but am feeling fit and well again. A special thanks to Tim Wall for putting out an excellent April edition in my absence. In this edition we feature an interview with GM Danny Gormally and a round-up of all the latest online chess initiatives. We owe a great deal of gratitude to Nigel Towers and his colleagues for their immense work in this area.
I have to comment on the sad, but somewhat predictable hike in obituaries featured below. This is partially due to the effects of COVID-19 as there is a large cohort of recreational chess players in the at-risk category. Professional and recreational players have been hit by the pandemic but we are fortunate to have a raft of online options to play, watch and learn. We are waiting to hear how the 2019-20 season will be resolved (more below) but while we embrace the 'chess is made for the Internet age' mantra, we should be equally fervent about over-the-board chess.
This is not only about the tension a face-to-face live encounter generates but of equal importance is the social aspect in team and tournament chess. The ritual of leaving the house, reaching the match or tournament and meeting up with your colleagues and friends, the frisson of excitement as a game begins, and in a team situation, the collective watching in agony or ecstasy as the final board strives to save a match point in a time scramble. All of these scenarios, along with the post-match gathering in a local hostelry, reinforce this social impact effect. Having had this taken away we appreciate how much we miss OTB chess and a return can't come soon enough.
But of course we should embrace the opportunities of reaching out to people to play, watch and learn chess online (as Malcolm Pein writes below, if you follow the commentary of live events, you are getting free chess lessons).
From the new 4NCL Online live on Twitch to Magnus Carlsen's innovative invitational tournament live broadcast (with our own IM Lawrence Trent carrying out the Gary Lineker Match of the Day anchor role with style), chess is responding to the demand and who knows, a future generation world champion may be telling us that he got into the game during the 2020 pandemic. This piece in the Guardian by Sean Ingle sums up the zeitgeist – https://www.theguardian.com/sport/blog/2020/may/04/fast-and-furious-carlsen-and-nakamura-transform-chess-into-an-adrenaline-sport and you know you are onto a winner when one of the tabloids gets excited – https://www.mirror.co.uk/news/uk-news/lockdown-boom-chess-britain-400-21943522
Stay strong and healthy
Mark Rivlin
ECF Charity Initiative
Social Media Manager Danny Rosenbaum writes, 'Please support the ECF initiative to raise funds for the British Red Cross's work to tackle Covid-19. We want as many people as possible to play in the 24-hour speed chess marathon on 23-24 May. It's free to enter but you need to join the ECF open club on Chess.com at https://www.chess.com/club/english-chess-federation. Tournament details to follow to those in the group. We urge players and non-players alike to donate to the campaign at https://tiltify.com/+chess-v-covid-19/checkmate-covid19'
Interview with GM Danny Gormally – here

Chief Executive, Mike Truran writes, 'These are troubling times for everyone, so it's very heartening to see so much online chess activity taking place and providing so many opportunities for our locked-down chess community. The English Chess Federation is doing its bit with its ECF Online Chess Clubs events and the English Online Blitz Championships, and we will also be organising the Online Counties Championships and the Online National Club Championships later this year. Crises like this tend to bring out the best in everyone, and in this regard I would like to mention in particular Chess in Schools and Communities' splendid initiative to get a million school children playing online chess during the lockdown and the ECF's forthcoming 'Checkmate Covid 19' marathon charity online event in partnership with the Red Cross. We're also doing our best to get in good shape for the return of over the board chess – a lot of work is going into rolling out monthly grading, and improvements are being made to the membership and league management systems. My thanks to all our hardworking volunteers who do so much for English chess, and of course to you the players for your continuing support. I'm sure we're all looking forward to the return of over the board chess, and it's good to know that in the meantime all the hard work that's been going on and that will continue in the online space is giving us the chance to continue to play our wonderful game.'
The ECF's Finance Director David Eustace will be retiring in October and we urgently need to find a replacement (the ECF's Articles require that the ECF has a Finance Director). Can anyone help? If you're interested, you can find more details here – https://www.englishchess.org.uk/about/vacancies/
English Online Blitz Championships this Saturday!
Nigel Towers writes, 'The English Online Blitz Championships Group stage tournaments is scheduled for Saturday the 9 May on Chess.com. The group stage is open to all ECF members or supporters and will be based on two 11 round Swiss tournaments with a 3|2 time control at 2-00 pm and 8-00 pm. There will be a total of 16 players qualifying for the Open final and 16 players for the Women's final which will both be on 16 May with a streaming commentary for the two knockout events. The finals will have a prize fund of over £800. You can find further details and a registration here – https://englishchessonline.org.uk/english-online-blitz-championships-2020/
Please register here if it is of interest to help us gauge numbers – https://britchess.wufoo.com/forms/english-online-blitz-championship-2020-4253
You can enter the group stage event whether or not you have registered. To enter you must have a Chess.com account, then join the ECF members club here – https://www.chess.com/club/english-chess-federation-members – and follow the tournament links as follows –
ECF English Championships Group Stage 1 (Starts 2.00pm 9th May) – https://www.chess.com/live#t=1217776
ECF English Championships Group Stage 2 (Starts 8.00pm 9th May) – https://www.chess.com/live#t=1217782
The links will also be published on the club home page with any amendments to the details should these be necessary. ECF members can play in either or both tournaments with joining open on the day an hour before each event starts. If you are interested in playing please make sure you have joined the ECF members club in advance as above, login to Chess.com, and follow the link(s) on the day to join before the first round starts.
Online Roundup
We have a number of national and international events now scheduled for members of the ECF Clubs on Chess.com and lichess.org in addition to our regular weekly tournaments. You can find full details of how to join the clubs here together with a calendar of all the upcoming events.
Counties Tournament
The ECF is pleased to announce the inaugural English Online Counties competition which will take place between June and August 2020. County Associations and online chess players are invited to participate in the competition, which is open to all ECF members and ECF supporters. The group 'all play all' stage will be played in June and July 2020 on a Saturday afternoon or evening with the knockout Finals stage in August. The rate of play will not be less than all moves in 45 minutes with 15-second increments. If you would like to play in this competition see the link below and contact your county's organiser or secretary. You will need to be an ECF Member or ECF Supporter before registration. Please follow the link here for further details.
Online National Clubs Championships in late June
We are also pleased to announce the return of the much-missed National Club Championships as an online event, and now taking place at the end of June. This will be a weekend event open to all English OTB, online, or 4NCL clubs. Clubs will be organised into sections based on strength with a five-round team Swiss played between Friday evening and Sunday afternoon. Further details of the event will be provided over the next week with a club entry form for registrations.
International Focus
The lichess English Players club has taken part in a number of internationals over the last few weeks.
England v Bangladesh lichess Team Battle
An ECF English players team took part in a 1:1 team battle with the Bangladesh Federation team on 2 May with some fighting performances from the England team. We fielded a GM on board 1 and there were 29 English players versus 50 in the Bangladesh team. We took the top 3 individual spots and won the match overall by 199 to 143 points. You can see full details of the event and results here – https://lichess.org/tournament/yCpvq7kC
Lichess Amateur Olympiad
The ECF English players team also managed an excellent results from the Amateur Olympiad on lichess on 2nd May. This one was organised by Imran Mughal of the Pakistan Federation. The team battle was a 90-minute arena with 10 teams and 10 leaders. English player Ferrari-Fan led the way on top board and we moved into the top three around the halfway point. We were then able to edge in front of the Pakistan team (despite Imran's encouragement to his players in the chat room) to finish in second place behind a very strong Team Spain. Again you can find full details of the event and results on lichess at this link – https://lichess.org/tournament/bR6qddJh
Chess.com Nations League
We have entered an English Federation team in the Nations league on chess.com and will be participating in the daily and rapid leagues with other National Federation teams once the competitions are under way in May or June – https://www.chess.com/club/chess-com-nations-league
New ECF Daily Chess Tournament on Chess.com
As practice for the daily league and to support ECF daily and correspondence players, Andrew Caswell (@AndreSC21 ) has set up an ECF 'daily chess knockout tournament' for ECF member club players on chess.com. Joining is open now for club members at the tournament link here – https://www.chess.com/tournament/ecf-members-2020-daily-tournament. The tournament will start on 22 May and will run at up to 3 days per move with matches based on a 4 player group knockout format. This will be based on players being allocated to groups of 4 players who will play round robin matches with white and black against their group opponents. Group winners will then be paired into further groups with further knock out rounds until the final with the remaining 4 players at the end of the tournament. We have over 100 players signed up so far and please do join now if you are a daily player and the competition is of interest.
Online Ratings and Affiliated Events
All of the regular ECF online events are ECF online rated with the rating lists published here – https://englishchessonline.org.uk/monthly-ratings/
The May lists will include updated online rapid and blitz ratings based on results from April ECF members club events and will also include a new ECF online Standard play rating based on results from 4NCL online rounds player in April. Please complete the form here if you would like to apply for your events to be ECF online rated. We are currently limiting this to 'member/supporter only' events played on ECF recognised platforms — https://britchess.wufoo.com/forms/register-your-event-for-ecf-online-rating/
Update on Club Finder and the general move to online
Many thanks to all those who have let us know about their online club. You can find details of 'local' online clubs here and please do let us know if you would like your online club to be added to the list – https://englishchessonline.org.uk/english-club-finder-map/
ECF Officers' messages
Director of Home Chess Adrian Elwin – 'Online chess has many new converts, and is likely to continue to expand over the next few months. For those looking to play chess during the crisis, this will give you an overview as to how the ECF can help.
As everybody knows, OTB chess had to close down very quickly after Coronavirus struck. Given the proximity of players to their opponents, this was inevitable. The competitions affected include both the British Championships and County Championship, and it is unlikely that the UK Open Blitz will be held in the same form as last year. The ECF has a community covering online chess which can be accessed under the Communities tag on the main ECF website or directly at https://englishchessonline.org.uk/
Many clubs have set up their own online competitions and there are links to many of them at the ECF Online Community under Club Finder. The ECF is also running its own competitions and has set up its own online rating list. These competitions are fairly informal and can be found on the Online Community website, as can the ECF Online Rating list. The ECF are also organising some more formal competitions.
The next event that you need to look out for is the English Online Blitz 2020 competition with the group stage on 9th May and the finals on 16th May. More here – https://englishchessonline.org.uk/english-online-blitz-championships-2020/
Following on from that, there will be an Online Counties Championship running from June to early September. Details have been sent to OTB county organisers. It is also proposed to hold an Online National Club tournament, with details still to be finalised.'
Director of Junior Chess Alex Holowczak
Lichess team battles —
Under 12 – https://lichess.org/tournament/SohUYi3H
We won ahead of Ireland and Israel.
Under 14 – https://lichess.org/tournament/lppa1eFc
Under 16 – https://lichess.org/tournament/i5SJ152P
Under 20 – https://lichess.org/tournament/u5AfA6su
We won all three sections! They were closer than they look; the U14 and U20 in particular were close right up until the last hour. We finished ahead of teams from France, Russia, Estonia, Greece, Netherlands, Austria and Ireland in the various competitions.
Director of International Chess Malcolm Pein
There has been no over-the-board competitive chess since the Candidates. The Olympiad and World Championship have been postponed and no date has yet been set by FIDE for the resumption of the Candidates. Chess24 and Chess.com took the initiative in developing more online tournaments. Magnus Carlsen's invitational eight-player challenge with a $250,000 price fund is something I think we're going to see more of in the coming months. The Sitges Open tournament in Spain ran an online version with slow play time limits. It was largely experimental, but was completed with GM Ahmed Adly of Egypt winning. With all online tournaments played at rapid or classical time limits, the spectre of cheating remains. All tournament organisers are going to have to grapple with this and introduce layers of governance in cooperation with the providers. The European Chess Union announced an Individual Championship and FIDE's Nations Cup began on May 5th and continues to the 10th with very strong teams from China, Europe, USA, Russia, Indian and Rest of the World. The matches will take place on Chess.com and there will be online commentary. When commentary is by grandmasters with good English and a sense of how to bring the complexities of the game to a level where most of us can understand, it's just a way of getting fabulous free chess lessons. So if you're not already watching on chess24 or twitch I'd recommend you give it a go.
Director of Women's Chess Chris Fegan
Women's chess has been very badly affected by the Covid-19 lockdown throughout the world. The ECF is looking at participation in online International competitions. We had a very interesting online meeting organised by the European Chess Union and facilitated by Chess Plus which looked at the future of Women's Chess in Europe and which built on the work of the major Chess and Female Empowerment Conference held in London in December 2019. We are planning to meet regularly online during the current crisis.
I am trying to keep an open mind in regard to when we can start playing over-the-board chess again in England and in particular with regard to the English Women's Championships which we have had to postpone.
However I am pleased to report that the ECF are planning to participate in a European Womens team competition which is being organised by the German Chess Federation and will be based on a series of lichess team battles with initial group stages and then a final between different nations. We will provide further details for female players who may wish to play in these events very shortly.
Finance Council Chair Michael Farthing – statement
In light of the current coronavirus situation it is clear that it would have been inappropriate to hold Finance Council in April. The Board and myself, with the advice of the Chair of Governance, will continue to monitor the position. By the end of August 2020 we will either (a) have held Finance Council if circumstances allow or (b) have proposed to Council a written resolution dealing with approval of the budget, the setting of membership fees and the other matters that require to be dealt with. In the coming months I shall use the new forum to keep members of Council updated and the forum will also continue to be a means for Council Members to raise and discuss matters of interest.
Book Reviews
IM Gary Lane looks at Memorable Games of British Chess by Neil Hickman; The Complete Chess Swindler by David Smerdon; Mental Toughness in Chess by Werner Schneitzer; and Attacking with g2-g4 by Dmitry Kryakvin. All the reviews here – https://chess.business/blog/
What a Choker
We've had ChessComedy (your editor's efforts over the board this season), ChessBoxing (well documented on these pages) and now we welcome ChessPoker (Choker). Deren Stevens writes, 'Combining the brilliance of chess with the cunning of poker, Choker is a free-to-play app available on Apple and Android devices. The Challengers Choker Cup is a free livestream event featuring eight top chess and poker players in a straight knockout tournament over seven weeks, with an opportunity to play GM Hikaru Nakamura and lift the first ever Challengers Choker Cup. More information here – www.chokergame.com. The live stream tournament will begin on 7th May 2020 on chess24.com. We have confirmed with the organisers that there is no gambling facility on this app.
2020 Chess Worldwide Online Championships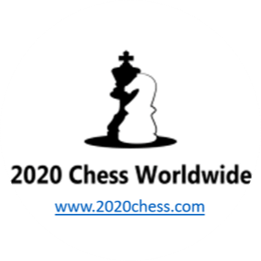 As a result of the drastic changes shaking the chess world, Peter Hornsby, with the help of various students and chess experts, set up the 2020 Chess International Online Tournament. One hundred teams are taking part from across the world from six different continents, from Harvard to Trinidad and Tobago; from South Africa to Philippines and beyond. The tournament, which was recently featured on BBC Radio, has plans for growth.
The first stage involved mainly UK teams and included IMs Tom Rendle, Ameet Ghasi and Peter Roberson with GM John Fedorowicz providing some of the commentary. The eventual winners were Tiger Sharks from Hammersmith defeating Financial Moscow University in the final. Stage Two concluded with Melbourne University pulling off a thrilling 7.5-4.5 over Tiger Sharks to peg them back, making it 1-1 in the overall standings. 2020 Chess is currently on the second round of Stage Three.
The tournament is open to everyone and totally free. Participants and beyond are invited to donate in support of Oxfam's COVID 19 Appeal, which has raised several hundreds of pounds so far via https://www.justgiving.com/fundraising/2020chess.
The matches take place on Monday and Friday evenings with a new stage beginning every three weeks. You can watch live commentary of the matches courtesy of https://www.twitch.tv/chessheroes. The aim of 2020 Chess is to bring people together and keep them in communication.
Aside from the titled players, the competition boasts a wide variety of players from junior schools, academies, universities and clubs and includes a wide demographic. This gives the opportunity for some David-Goliath fixtures where upsets happen on a regular basis. It also leads to some thrilling matches with entirely unpredictable results.
A revolutionary pairings system has also made a successful debut for the tournament which you can view here – https://scorchapp.co.uk/. Chess.com have sponsored the tournament and kindly allowed use of their platform with fantastic support and provided Diamond memberships provided for captains.
All the details are here – www.2020chess.com and to contact the organiser please email director@2020chess.com
Fundraising for Charities Together
Brothers Jon and Michael Hill are hosting online chess tournaments on Chess.com to raise money for the NHS Charities Together appeal. The tournaments will take place at 2 pm EVERY SATURDAY and will last for one hour. Just register yourself on Chess.com – it's free to join, create a username and then join our club. For donations please see here [closed] …
Problem Corner
Christopher Jones with another set of teasing problems
Paperback Writer – the story behind Ben Graff's chess novel, The Greenbecker Gambit …
ECF member Ben Graff writes — The Greenbecker Gambit (The Conrad Press) is the story of Tennessee Greenbecker who sets out with brave optimism to claim what he sees as rightfully his – the title of world chess champion. But who is the real Greenbecker? Is he destined to be remembered as chess champion or fire-starter? Either way, might this finally be his moment? Carl Portman succinctly summarises him as a 'a chess-playing delusional pyromaniac – what could possibly go wrong?'
I have always believed there should be more novels about chess. As a journalist at the Carlsen–Caruana world championship match in London, I wondered if someone might convince themselves that they, rather than Caruana, were Carlsen's rightful challenger and if so, what kind of person this might be.
So it was that Tennessee Greenbecker came about. A man who admires Bobby Fischer and Guy Fawkes in roughly equal measure, he is by no means an easy character. His mental health is fragile, his behaviour frequently appalling and his choices often catastrophic. With a battered copy of Bobby Fischer's My Sixty Memorable Games for company, this is the story of a turbulent weekend in London as Greenbecker aims to fulfil his destiny at, and away from the chess board. Ultimately, The Greenbecker Gambit encapsulates one person's struggle to make sense of the life they find themselves living.
The Greenbecker Gambit is available in paperback from Chess and Bridge and Chess Direct. The kindle version is on Amazon and it will be fully available from all bookshops, including Amazon, shortly.
CHESS Magazine taster – here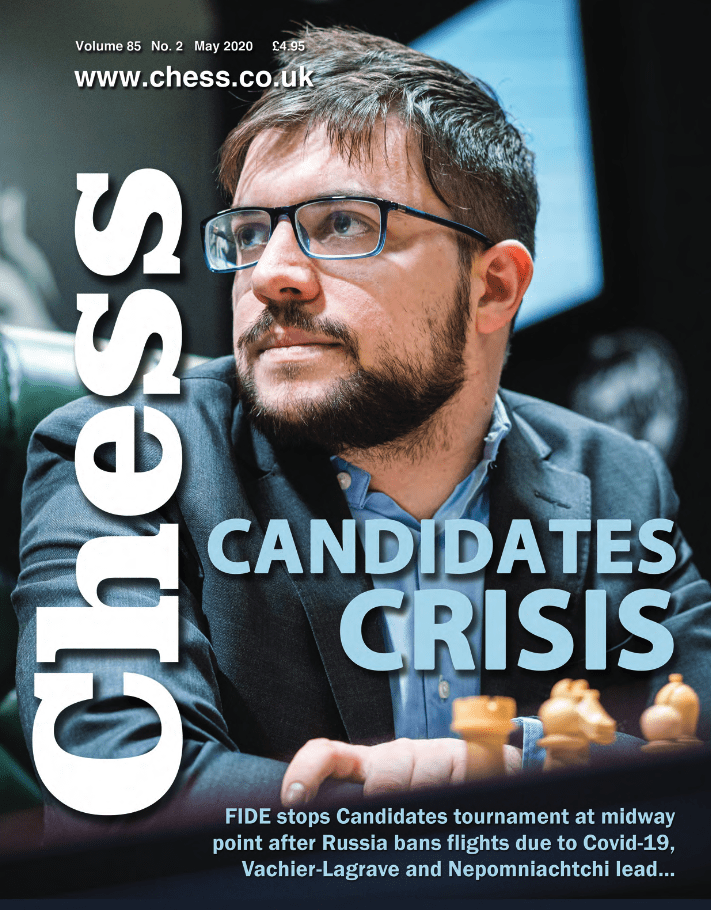 For the full version, visit this link
Obituaries
Richard Guy – https://www.ecforum.org.uk/viewtopic.php?f=46&t=10677
Tim Crouch – https://www.ecforum.org.uk/viewtopic.php?f=46&t=10738
WIM Arianne Caoile – https://www.chess.com/news/view/arianne-caoili-obituary
Jacoba (Cobie) Ives – https://www.ecforum.org.uk/viewtopic.php?f=46&t=10729
Gennady Kuzmin – https://www.chess.com/news/view/gennady-kuzmin-1946-2020
John Pakenham – https://www.ecforum.org.uk/viewtopic.php?f=46&t=10625
Steve Brockelsby – https://www.ecforum.org.uk/viewtopic.php?f=46&t=10664
Tony Suttill – https://www.ecforum.org.uk/viewtopic.php?f=46&t=10673
Alan Whitbread – https://www.ecforum.org.uk/viewtopic.php?f=46&t=10674
Denis Lane – https://www.ecforum.org.uk/viewtopic.php?f=46&t=10704
Adrian Dawson – https://www.ecforum.org.uk/viewtopic.php?f=46&t=10702
Bill Pettigrew – https://www.ecforum.org.uk/viewtopic.php?f=46&t=10739
Richard Collins – https://www.ecforum.org.uk/viewtopic.php?f=46&t=10741
David Fewkes – https://www.ecforum.org.uk/viewtopic.php?f=46&t=10736
Geoff Robinson – https://www.ecforum.org.uk/viewtopic.php?f=46&t=10770
Roy Catlow – https://www.ecforum.org.uk/viewtopic.php?f=46&t=10774