Dear Member
Welcome to the July edition of the eNewsletter. In this edition we feature an interview with two keen players who have taken up chess during lockdown, and a piece by ECF-graded 123 Alan Ruffle, who has written and published a book for club players.
Lockdown has affected the ECF in many ways, with financial resources being hit particularly hard. Director of Membership Dave Thomas writes, 'The Covid-19 pandemic has brought unprecedented challenges to the ECF. We have to cover our office staff and infrastructure as well as provide benefits to members now and when the present crisis eases. Although over-the-board chess is still not back on the calendar (and may not be for some time) we're asking members to support the ECF in its time of need by renewing subscriptions as soon as possible, if finances permit. The greater the number of members willing to support the ECF, the easier it will be for us manage the financial difficulties which almost certainly lie ahead despite the support that we have received from the government.
New memberships will be available from Monday 20th July, and as a small gesture to members we'll be proposing at the forthcoming ECF Council meeting that all rates remain unchanged. Please renew your membership (and see what membership benefits the ECF provides) here – https://www.englishchess.org.uk/ecf-membership/
Finally, a reminder that the ECF is looking for a Finance Director (voluntary post) – https://www.englishchess.org.uk/about/vacancies/
Enjoy the weather and stay safe …
Mark Rivlin
The Monthly Interview
Mark Rivlin meets two chess rookies here
ECF Risk Assessment
A number of clubs and other chess organisers have asked the ECF whether they will be able to re-open given that social distancing requirements are due to be relaxed on that date. The ECF has published a statement here – https://www.englishchess.org.uk/chess-clubs-and-covid-19/
Online Chess
Nigel Towers' monthly round up is here, National Club Championships Stephen Greep reports on a successful online weekend of action here, and Online County Championships Mark Murrell's report is here
Junior Chess
Alex Holowczak reports — An English Juniors team has been set up on Lichess, and runs weekly events on Thursday at 6.00pm, and occasionally takes part in matches against other countries. Any ECF member is welcome to join, and we currently have 300 members! The link to do so is here – https://lichess.org/team/england-juniors – but please make sure you provide the real name and ECF membership number on your application.
Junior County Chess
Inter-County Team Battles are being played on Lichess at 6.00pm on the first and third Monday of each month, and now has 17 counties taking part. The most recent edition was won by Sussex, with Kent winning the first three. If you organise county teams and would like your team to join, please contact Alex Holowczak Email: alexholowczak@gmail.com
Schools Chess
Schools Team Battles for secondary schools are being played on Lichess at 4.15pm on alternate Fridays, with the next one planned for Friday 3rd July. If you work in a secondary school and would like your school to take part, please contact Neill Cooper Email: nsc@cplusc.co.uk
Problem Corner
Christopher Jones keeps us busy with another problem here
Grading Update
Director of Membership Dave Thomas reports — We continue to make good progress on the monthly grading system development and testing and we now have a complete and working phase 1 system with the initial phase of testing / proving more or less complete. This has been thanks to a huge amount of effort put in by the volunteer team over the last six months including lead developer Stephen Bush who has done the majority of the system build, Yorkshire Grading System owner Jon Griffith who provided the basic platform for the system and the grading algorithm, and Malcolm Peacock who developed the LMS interface, together with a number of other volunteers who have supported the delivery work over a number of months.
Our plan is to continue with phase 1 testing during July and we are then looking to go live with the first monthly lists in the Autumn. The system has been populated with historical data and monthly Elo grades converted from the ECF grades in the current systems as at the July 2020 list, and there will be a catch-up before the system finally goes live. Our current plan is that monthly grades will be published at the start of each month based on information available at that time.
We are looking for further volunteers to help with the final stages of testing and system enhancements over the next few months to help get the system into live service and transition to operation and maintenance. If you have PHP or SQL database skills we would welcome your support as part of the development/test and/or operations team and I look forward to hearing from potential volunteers to help with this exciting project.
British Chess Championships 2021
Director of Home Chess Adrian Elwin writes — In 2021, the British Chess Championships will again be held in Torquay. After the Coronavirus pandemic caused the cancellation of the booking for this year, this is the simplest, most economic option available to the ECF. The schedule has yet to be finalised, but the festival will start on Thursday 22 July or Friday 23 July with events running until Sunday 1st August. A schedule will be published as soon as we are able. It is intended to start the British Chess Championships themselves on Saturday 24 July with the final matches, including playoffs, if required, on Sunday 1st August. However, this will be dependent on which dates FIDE chooses to run the Olympiad, and will be confirmed once we have been able to take that into account. Prior to the British Championships, the Glorney Cup and the other associated competitions will be held at the same venue, starting on Monday 19th July. (Congratulations to Adrian, who has been awarded International Arbiter (IA) title the by FIDE)
Battle of the Prodigies
See what happened when Shreyas Royal took on the nine-year-old rising star in the USA, Tami Adewumi, here – https://www.chesskid.com/videos/usa-vs-uk-rising-stars-match-tani-vs-shreyas
Book reviews
Gary Lane looks at Beyond Material by Davorin Kuljasevic and On the Origin of Good Moves by Willy Hendricks. Tim-Jake Gluckman reviews the Fred Reinfeld biography Fred Reinfeld: The Man Who Taught America Chess with 282 Games by Alex Dunne here – https://www.kingpinchess.net/2020/05/deep-bloke-shallow-book/
First 4NCL Online Congress
Friday 10th – Sunday 12th July, five rounds for a fiver – http://www.4ncl.co.uk/fide/online/arrangements_1.htm
Also 4NCL Online and Junior 4NCL Online results are now up on the 4NCL website – www.4ncl.co.uk
ECF Safeguarding Policy
The updated safeguarding document is available to read and download here – https://www.englishchess.org.uk/ecf-safeguarding-policy/
Tweet of the Month is from IM Gary Lane's Twitter feed @garylanechess. Jack is rated 2100. Link to the song here – https://jackrodgers.bandcamp.com/releases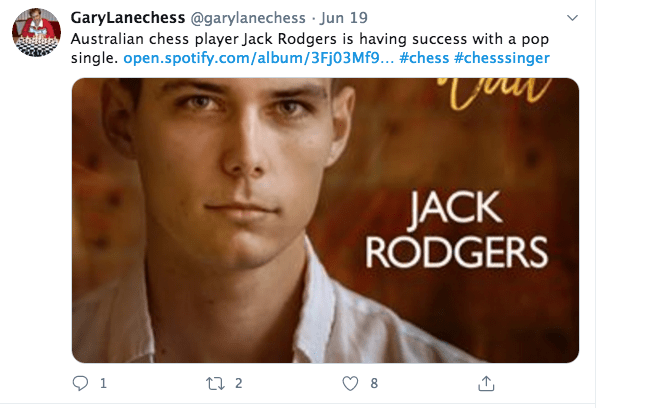 Arbiters' Seminar
Alan Atkinson, ECF Manager of Arbiters, reports on the 79th International Arbiters Seminar held online in in June- https://www.englishchess.org.uk/79th-internet-based-fide-arbiters-seminar-2/
Unruffled
ECF member Alan Ruffle goes into publishing here
CHESS Magazine teaser – here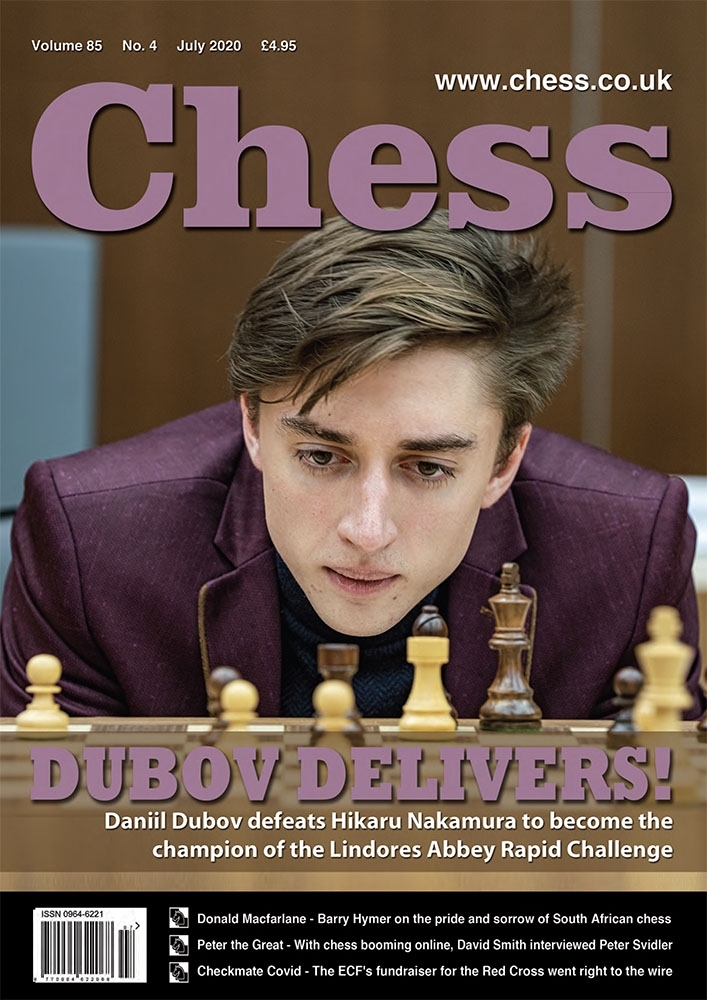 Purchase the complete magazine here — https://shop.chess.co.uk/CHESS-Magazine-July-2020-p/cb07877.htm
Obituaries
Joe Spooner – https://www.ecforum.org.uk/viewtopic.php?f=46&t=10837
Jim Macrae – https://www.ecforum.org.uk/viewtopic.php?f=46&t=10864
Adrian Jackson – https://www.ecforum.org.uk/viewtopic.php?f=46&t=10889