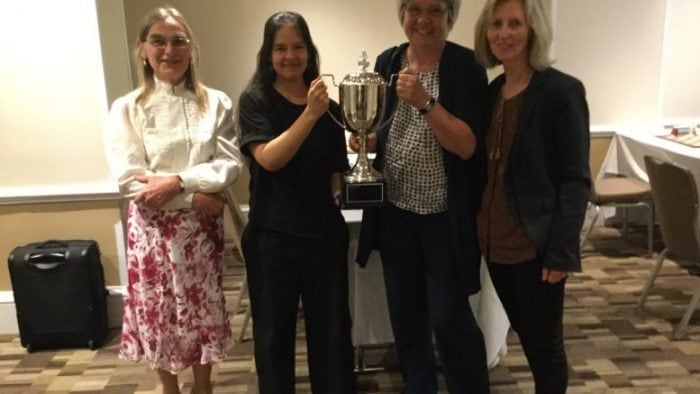 Many congratulations to ECF English Women's Joint Champions 2018 – Kanwal Bhatia and Ingrid Lauterbach, who tied for 1st place, and were presented with the trophy by ECF Director Julie Denning. They are pictured with Julie and Helen Frostick, ECF Manager of Female Social Media.
---
When – 31st August to 2nd September 2018
Where – St Johns Hotel, 651 Warwick Road, Solihull, West Midlands, B91 1AT
Format – 5-round FIDE-rated Swiss
Rounds – Round One: Friday 19.00-23.00 | Round Two: Saturday 10.00-14.00 | Round Three: Saturday 15.00-19.00 | Round Four: Sunday 10.00-14.00 | Round Five: Sunday 15.00-19.00
Time limit – Game/90 + 30 seconds per move
Entry Fee – £10
Place Prizes – 1st £750; 2nd £500; 3rd £300
Three Best Performance Prizes (2001+, 1801-2000, < 1801) – £100 each
Additional Prize – Best Under 18 player (born 2000 or later) £150
Live results will appear here over the weekend — http://chess-results.com/tnr374829.aspx?lan=1
The winner will also qualify for a place in the England women's team in the 2019 European Team Championship. In the event of a tie for 1st place, the prize money will be shared, and the player in the tie with the highest rating in the June 2019 FIDE-rating list will be selected
ENTRIES ARE NOW CLOSED
List of entries as at Thu 30 Aug 2018.
Championship
30 entries
Name
Club
Fedn
FIDE
ECF
TR
Bye Req.
Head, Louise
WFM
none
ENG
2161
205
2161
Longson, Sarah N
WFM
none
ENG
2123
200
2123
Jackson, Sheila
WGM
none
ENG
2071
188
2071
Bhatia, Kanwal K
WFM
none
ENG
2042
187
2042
Frostick, Helen M
none
ENG
2037
144
2037
Lauterbach, Ingrid
WIM
none
ENG
2010
185
2010
Varney, Zoe
none
ENG
2003
175
2003
Regan, Natasha K
WIM
none
ENG
1942
172
1942
Jaufarally, Nadia
none
ENG
1914
168
1914
Gamal, Alaa
none
ENG
155
1862
Wang, Susie
none
ENG
155
1862
Ashton, Crystal
none
ENG
1836
163
1836
Rahulan, Thivyaa
none
ENG
1800
175
1800
Round 1
Milewska, Agnieszka
none
ENG
1778
153
1778
Wei, Naomi
none
ENG
1772
166
1772
Chowdhury, Feroza
none
ENG
139
1742
Sheremetyeva, Elizaveta
none
ENG
1733
158
1733
Sheikh, Anum
WCM
none
ENG
1675
149
1675
Walker, Kate
none
ENG
129
1667
Denning, Julie L
none
ENG
1658
125
1658
Volovich, Julia
none
ENG
1651
156
1651
Round 1
Maladkar, Lavanya
none
ENG
1644
144
1644
Round 1
Dicen, Imogen
none
ENG
1459
141
1459
Dicen, Elis Denele
none
ENG
92
1390
Eccleston, Bryony
none
ENG
70
1225
Kluckova, Alzbeta
none
ENG
64
1180
Round 1
Jafarinejad, Shohreh
none
ENG
Meng, Hanzhi
none
ENG
Naudé, Nanette
none
ENG
Posadas, Rayelynn
none
ENG
Total entries 30.
Terms and conditions
The submission of an entry form and payment of the entry fee denotes acceptance that the English Chess Federation's decision is final in all matters.
The English Chess Federation reserves the right to refuse any entry without explanation.
No player may win more than one place prize or best performance prize. All place prize money will be shared equally between tied players.
The best performance prizes will be awarded to the player with the best performance relative to rating (W-We) unless otherwise stated. Unrated players will have their ECF grading converted to Elo for calculation of rating prizes. Ungraded or unrated players may not win a best performance prize.
The additional prize will be awarded in addition to any other prizes that a player might win.
Prizes will be transferred by direct bank transfer in the week following the end of the event.
All players must be Gold members of the ECF.
All players must appear on the FIDE rating list as England. Players who do not appear on the rating list at the time of the tournament will be put on the FIDE rating list as England. Such players are only eligible to play in the tournament if they are either born in England, or resident in England.
Re-pairing will take place 30 minutes after the start of a round. Players will be defaulted 30 minutes after the scheduled start of a round.
The submission of an entry form and payment of the entry fee is acceptance of these terms and conditions.
All pairings will be made using FIDE Swiss pairing rules.
Booking Accommodation
Accommodation will be reserved by requesting it on the entry form. Accommodation is available at the following rates —
£36 BB per person per night (based on two people sharing)
£62 BB per person per night (single occupancy)