Dear Member
Welcome to the November ECF Newsletter. In this edition we feature an excellent performance from the men's national team's who won the Bronze Medal in the European Team Championships in Batumi, their first medal in this tournament for 22 years. Our women's team also had some fine individual performances. We also have a piece from Ursula Wielgosz, a chess parent with views on the proposal to make a couple of sections at next year's British Chess Championships adult only events. I have written a piece on the unscientific way to attract new ECF members.
As you all know, I want a wide range of views to be represented in the newsletter so please send anything chess-related to manager.publicity@englishchess.org.uk
Later this month the London Chess Classic returns to Olympia for the 11th time. World Champion Magnus Carlsen joins the elite GMs fighting it out for the Grand Chess Tour prizes and there is another British Knockout tournament and a huge festival for players of all levels, along with a Chess and Female Empowerment conference and activities for schools through Chess in Schools & Communities. Much more here – http://www.londonchessclassic.com/ and here – https://londonchessconference.com/
— Mark Rivlin
Gentlemen prefer bronze
Tim Wall on another superb effort by our international men's team here – https://www.englishchess.org.uk/bronze-in-batumi/

Takes on a plane
Mark Rivlin attracts chess enthusiasts with a pocket set – click here

Hull 4NCL
Report | pictures

Junior exclusion zone?
Ursula Wielgosz on the British Championships – click here

Tweet of the Month – TATA source?
Shreyas Royal on his new sponsorship deal from the Indian steel magnate – https://twitter.com/shrez_royal09/status/1190701822870278144
Junior roundup – from Director of Junior Chess Alex Holowczak
World Youth results – http://chess-results.com/tnr470711.aspx?lan=1&art=25&fedb=ENG&flag=30
World Junior results – http://chess-results.com/tnr479945.aspx?lan=1&art=25&fedb=ENG&flag=30
English Girls Championship results (won by Imogen Dicen from Coventry Chess Academy) – http://chess-results.com/tnr481047.aspx?lan=1&art=1&rd=5
English Women & Girls Rapidplay – https://tickets.londonchessclassic.com/tournaments.php#womenandgirls
Terafinal results
U8 – http://bracketcloud.com/tournament/151131
U10 – http://bracketcloud.com/tournament/151151
U12 – http://bracketcloud.com/tournament/151152
U14 – http://bracketcloud.com/tournament/151153
U18 – http://bracketcloud.com/tournament/151154
Isle of Man
Wang Hao wins Candidate slot after beating Fabiano Caruana on a tie-break. More here – https://www.theguardian.com/sport/2019/oct/25/chess-wang-hao-shocks-elite-at-isle-of-man and here – http://chess-results.com/tnr478041.aspx?lan=1&art=4&flag=30
AGM 2019
Minutes here – https://www.englishchess.org.uk/wp-content/uploads/2019/10/ECF-Council-AGM-October-2019-Minutes-version-1-1.pdf
London Chess Conference 2019
Female and male chess players, organisers and educators are invited to two days of ground-breaking presentations, discussions and workshops on "Chess and Female Empowerment," which will be the theme of the seventh London Chess and Education Conference, held on November 30-December 1 at the Irish Cultural Centre, Hammersmith. The conference will focus on improving the gender balance in chess, creating a safe and welcoming environment for women, and making chess more accessible to women and girls. It will feature inspirational speakers from the United States, Africa and Europe, including leading female players, coaches and organisers. Female ECF members can register for free entry to the conference by sending an email in advance to – conference@chessplus.net with your membership number. The general conference fee is £65 for one day and £95 for both days, while participants in the London Chess Classic Open or Weekender events can take part on both days with a one-day ticket. The event's sponsors include the ECF, FIDE, Chess in Schools and Communities (CSC) and the European Chess Union (ECU). For more details of the conference, headline speakers and the topics covered, please see the London Chess Conference website.
Director of Home Chess Adrian Elwin's monthly report
County Championship rules and venue
The rules for the County Championships 2020 have been published on the ECF website and can be found at https://www.englishchess.org.uk/counties-championship-2020/. Unfortunately, the venue that we proposed using has been booked for a computer gaming tournament on the date we wish to use it. This does not actually use the area that we use, but would be extremely noisy, which is unacceptable. A search for a different venue has started and the venue will be announced as soon as possible.
Arbiters course
An ECF Arbiters Course was held at Exeter on 5th-6th October. Congratulations to the following people who passed the course and are now Level 1 Arbiters – Josh Blackmore, Graham Bolt, Tim Paulden, Sean Pope, Matthew Rolls and Sandesh Tathare.
Grand Prix – Open
After the completion of the 2018-2019 Grand Prix, a complaint was made concerning the score made by GM Keith Arkell which had been reduced between the penultimate list and the final list. This was due to the correction of a previous mistake. However, we accept that the delay between the two lists gave Keith no knowledge of the correction, and no chance to recover from it. It has been decided that the 'fairest and most equitable' solution is to declare the competition as a tie between Keith and Yichen Han. This decision has been accepted by all parties concerned. Congratulations to both!
IPCA (International Physically Disabled Chess Association)
1st open Individual Chess championship IPCA for the disabled, rapid and blitz 2019 Torrevieja takes place in Spain on 21-25th November 201 More here – http://ipca.online/
Weekend FIDE Chess Congress, Leyland, Lancashire
David Clayton writes — A two-day, five-round, FIDE rated event in Leyland, Lancashire, 14-15 December 2019. Major under 1900 (ECF 160) & Minor under 1500 (ECF 107). Held in the recently converted conference centre at South Ribble Borough Council, the venue offers excellent playing conditions with plenty of space. The congress will utilise the IT facilities available to display pairing and results on monitors and have live games which will be broadcast on the website. Free WiFi and parking is available. For further information and to pay on-line, by credit/debit card or PayPal, please visit the website at http://congress.popmalc.org.uk/congress/49/home

BBCA FIDE Rapidplay …
… takes place on Sunday 10.11.19 at London Enterprise Academy, 81-91 Commercial Rd, Whitechapel, London E1 1RD [details]

4NCL FIDE-rated Congress in Harrogate 17-19 January 2020
This is a five-round congress with three categories and £3000 of prize money. More here – http://www.4ncl.co.uk/fide/information_24.htm

Photo of the Month
Three-handed chess? Mike Pollard of St Andrews Chess Club, Hornsea, snaps the new seafront chess table …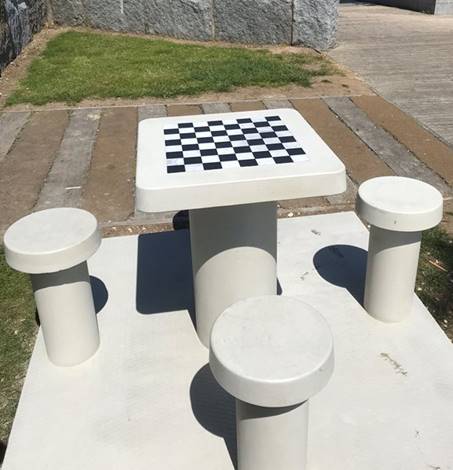 ECF Women's Recruitment Officer
Tim Wall has been appointed to this post. More here – https://www.englishchess.org.uk/appointment-of-an-ecf-womens-recruitment-officer/

Problem corner
Wind up the brain cells, another teasing problem from Christopher Jones – click here
Hampshire Congress report here – https://www.englishchess.org.uk/hampshire-congress-report-from-john-wheeler/

Leeds Junior Chess Congress on November 30. More here – https://www.yorkshirejuniorchess.org/
Players wanted in Cambridge
Development Officer Carl Portman on a shortage of players for Cambs County Tournament – https://www.englishchess.org.uk/players-wanted/

So Random
Wesley So defeated Magnus Carlsen to win the First Fischer Random Championship in Oslo. More here – https://en.chessbase.com/post/fischer-random-wc-2019-final-day-3

Bury St Edmunds Congress
Another successful congress attracted 170 players. Results here – https://www.bsecongress.org.uk/results-2019 and media report here – https://www.buryfreepress.co.uk/sport/the-37th-chess-congress-welcomes-record-numbers-to-the-apex-event-9087906/

CHESS magazine teaser – November edition here

Obituaries
RIP C RICHARD MOORE
Born 9 June 1934 Died Monday 21 October 2019.
Stewart Reuben writes — Richard was appointed an Honorary Life Vice President of the ECF in 2009. He served as a trustee of the federation from 1975-2009. His final grade was 120C. He was active for many years in Cleveland and the longest-serving member of Redcar Chess Club.
He was a defence solicitor, renowned for his objectivity and utmost integrity, who wanted to think well of everybody. Further information can be found on http://www.clevelandchessassociation.org.uk/wp/wp-content/uploads/2019/10/Richard-Moore.pdf.
Our condolences to his son and daughter. The funeral took place 1 November 2019 at 1pm at St Bedes Chapel, Middlesborough Crematorium. It was well-attended, with several local chess players present (our thanks to Gerry Walsh who represented the ECF at Richard's funeral). Also see Ernie Lazenby's eulogy here – https://www.ecforum.org.uk/viewtopic.php?f=46&t=10459&sid=e14e26d2d7af7b6314676a6535e99e3c
Mike Kaye – https://www.ecforum.org.uk/viewtopic.php?f=46&t=10430&sid=e14e26d2d7af7b6314676a6535e99e3c