Dear English Chess Federation member
Welcome to the February edition of the Newsletter. In this edition we have an interview with Lennart Ootes, a 2100+ player who is making a name for himself as a chess broadcaster, videographer and photographer. We also feature an excellent roundup of the Gibraltar Masters by Tim Wall.
I am dedicating this February editorial to the doyen of English chess Leonard Barden [below, image via Twitter], who is still going strong with his superb chess columns at the sprightly age of 90. He signed off his near-64 year column with the Evening Standard on Thursday 31.1.20 (a square for every year). His final article includes this memorable line, "The series began on 4 June 1956 and has continued for 63 years, 7 months and 27 days without missing a day, a world record in all journalism for a daily column by a single individual."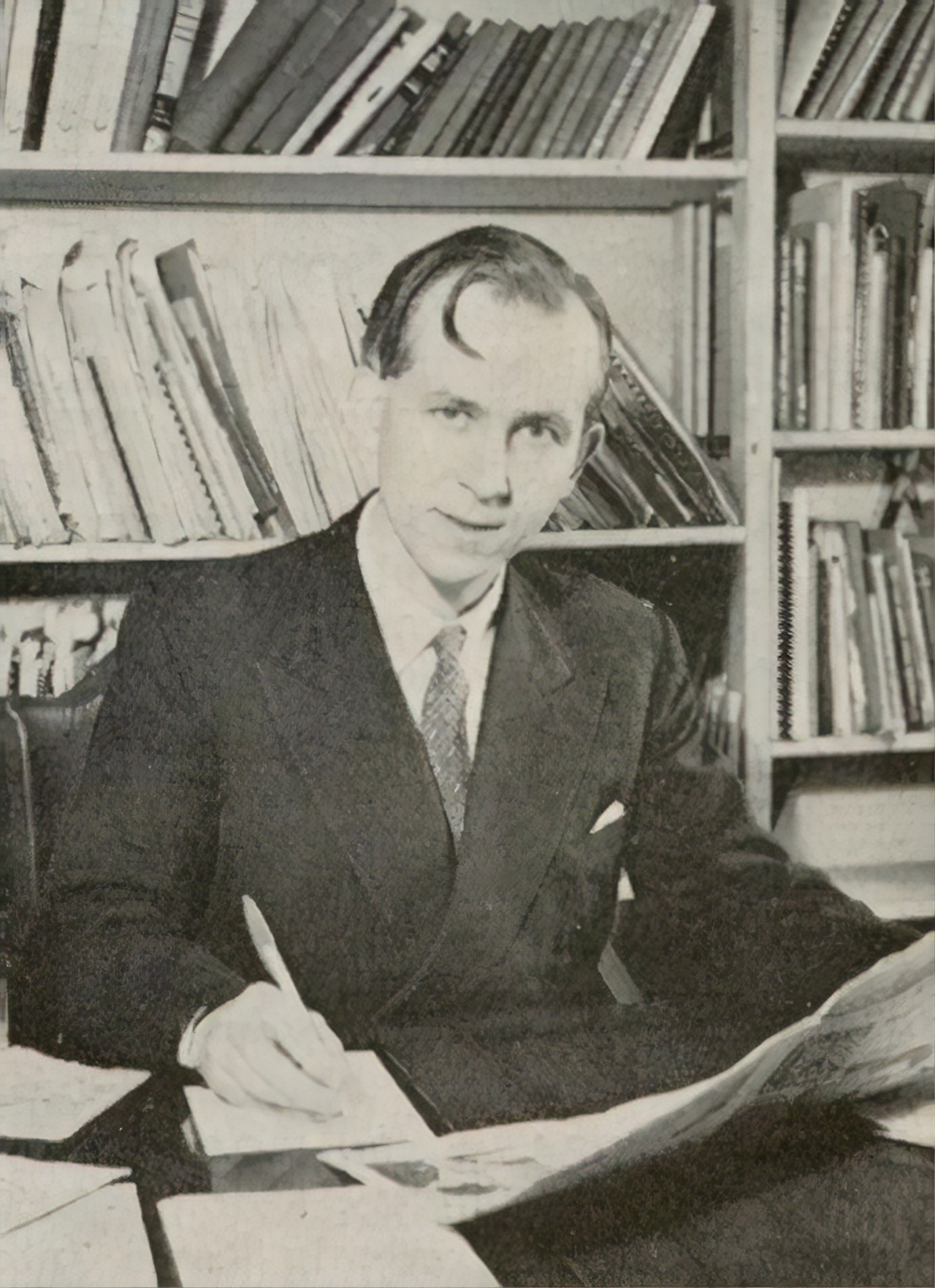 Doug Wills, Managing Editor of the Evening Standard writes, "Leonard has deservedly won the respect of so many of our readers for his passion for chess as well as his staying power. He has never been less than a perfectionist, always winning the admiration of the Evening Standard editorial team. We would like to congratulate him on his amazing feat and wish him well for the future."
When the Evening Standard relegated Barden's column from the print edition to a digital output in August 2010, I was one of many chess players to complain. I loved Leonard's 'Find the Next Move' position in the Standard (usually beyond my patzer grading level) and always accompanied by a cameo background piece on all aspects of world chess. This was my letter — "I am a keen London-based club chess player and this is the second time I have had to write to the Standard regarding the withdrawal of Leonard Barden's chess column from the print edition. I know you have received many letters of support from players and chess fans to reinstate the print column and I have read some of the replies you have sent. Your standard (excuse the pun) response paraphrased is, 'yes, we're sorry too, we love Leonard, we're delighted he has agreed to go online, sorry no room in print edition' is complete nonsense of course. There are hundreds of online sources for chess, the beauty of Leonard's column in print is the very fact it is (or was) in print; that it gave so much pleasure to so many people as we struggled to get to and from work, an oasis of calm in a packed carriage or bus. Leonard's quirky, entertaining background stories which accompanied the daily puzzle were a delight with the carefully chosen problems testing thousands of players."
Says ECF Chief Executive Mike Truran, "We are sure that you will join us in congratulating Leonard on his world-beating achievement in penning the Evening Standard chess column for over 63 years. Leonard has been one of English chess's most outstanding chess servants, and we will always be grateful to him for his fantastic contribution over the years to our great game as a player, organiser and journalist."
Leonard's last Evening Standard column is here – https://www.standard.co.uk/staticpage/chess/chess-with-leonard-barden-a1939236.html and a discussion on the English Chess Forum here – https://www.ecforum.org.uk/viewtopic.php?t=10600&p=240057
— Mark Rivlin [Image – Chessbase]

We will rock you
Tim Wall reports on the Gibraltar Masters – here
Lennart and his lens art
Mark Rivlin interviews Lennart Ootes [pictured below], the man who expertly captures and relays the zeitgeist of top chess tournaments – here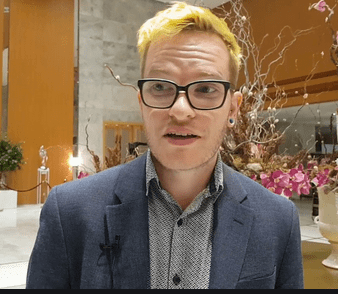 Monthly gradings
Manager of Grading Brian Valentine writes — As advised in last month's newsletter, we have now started implementation of the monthly grading system. Phase 1 will run from January to April and will provide us with a core system/minimum viable product, with a results interface from the ECF LMS, storage of Players, Events and Results, and calculation of ratings with a basic web publishing system. Phase 2 will provide the full system with all interfaces, extracts, reports and full web publishing.
The system is being implemented as an extension/ upgrade to an existing system with coding in PHP, Javascript, and MySQL with some Python processing for back end services. We have a core development team in place including volunteers who have come forward to offer their time, following the last Newsletter. Can I ask for any further volunteers particularly with PHP experience to complete the development team? We are looking mainly for developers at this stage but support with QA and testing would also be very welcome.
The monthly grading implementation is an important project to bring our grading system up to date and replace our legacy grading system which is no longer supportable. This is a great opportunity for our members or supporters/colleagues to support English Chess, and any help with this will be very much appreciated [email Brian on manager.grading@englishchess.org.uk]
Click and enter
Malcolm Peacock's excellent online entry software is here – https://www.englishchess.org.uk/congress-online-entry-software/
ECF Online Month 1
Nigel Towers writes — As you may know the ECF launched our English Chess Online Service on 8th January 2020 following a six months period of beta testing with a group of volunteer club players. The service is based on ECF clubs on chess.com and lichess.org open to all ECF members and supporters. We also have an ECF open club on Chess.com, open to all English registered players. The launch has gone really well with club memberships as follows (as at 31/01) –
www.chess.com/club/english-chess-federation – ECF Open club 1,317
www.chess.com/club/english-chess-federation-members – ECF Members 180
www.lichess.org/team/english-chess-players – English Players 143
We are currently running two ECF internet rated club events per week for club members on each platform in Swiss and/or Arena formats. Our club tournaments are a mix of Blitz (3|2, 5|5 or 10|0) and rapid (15|10) time controls and are well attended, with increasing numbers of players as the clubs grow in size. We also run a 1|0 or 1.5|0 bullet tournament every Sunday evening on lichess in response to demand for those who like a very fast format. Results from club games since go-live on 8th Jan will be used to calculate four digit Elo rating lists, which will be published on a monthly basis from February/March onwards. The ECF online ratings will be completely separate from, and will not impact, players' OTB ECF grades/ ratings. The current schedule for club tournaments is as below —

As well as the club events we are planning international events for our club members on chess.com and lichess, and we endorse the Team-England-Live and Team-England clubs for participation in World and European league matches on chess.com. We have an England USA chess.com international scheduled for Sunday 16th Feb between players in the ECF members club and the USCF club. Further details will be provided on the ECF Members home page as these are available. You can find futher details and joining instructions for the clubs here – https://englishchessonline.org.uk/. We also publish a weekly online newsletter with upcoming events, last weeks results and articles of interest from online membets which you can view or download here – https://englishchessonline.org.uk/online-news/. Do please give the clubs a try, and/or have a look at the newsletter and let us know what you think.
World Senior Team Chess Championships, Prague
Stewart Reuben writes — We have one of our strongest ever English entries for the World Senior Team Championships in Prague. We have now entered a total of six five-player English teams for the event in March with support from a private donor, the ECF, Friends of Chess and Terry Chapman. Our 50+ English first team is an all GM squad as follows – Jon Speelman, Keith Arkell, Mark Hebden, Glenn Flear (Captain), and Neil Mcdonald. The team is seeded 5th out of 56 teams. We are also fielding two additional and very strong 5-player teams in this section – our second team captained by Jeremy Fraser-Mitchell, and the English Women's team of Sheila Jackson, Jana Bellin, Ingrid Lauterbach, Petra Nunn (Captain), and Helen Frostick. Our 65+ English first team comprises John Nunn, Nigel Povah (Captain), Anthony Stebbings, Ian Snape and Geoffrey James and is seeded 4th out of 61. In the 65+ section we are also fielding a 5 player second team captained by Stewart Reuben, and a five player third team captained by ECF Grading Manager Brian Valentine. The event is scheduled to run from 5th to 15th March in Prague. You can see all of the teams and follow the results at the links below – http://chess-results.com/tnr491114.aspx?lan=1&art=0&turdet=YES&flag=30 and here – http://chess-results.com/tnr491115.aspx?lan=1&art=0&turdet=YES&flag=30 – and find more information here – https://www.englishchess.org.uk/Seniors/teams-for-the-wstcc-in-prague/
Qualifiers
European Schools and World Youth Rapid and Blitz here — https://www.englishchess.org.uk/Juniors/qualifiers-european-schools-world-youth-rapid-blitz/
Hastings GM Simon Williams on the revived Hastings Congress here – https://en.chessbase.com/post/simon-says-2019-23 and here – https://en.chessbase.com/post/simon-says-2019-24
Marcus, you're So cool
Marcus Harvey analyses a memorable victory over Super GM Wesley So in the PRO Chess League here [PGN]
County Finals venue
Director of Home Chess Adrian Elwin writes — Due to a clash of bookings, it will not be possible to use last year's excellent venue for this year's County Championships Finals. The replacement venue will be the Holiday Inn, Birmingham Airport and NEC. Many of you will remember this hotel as it has been used for the 4NCL on many occasions. It is close to the M42 and a short taxi ride from the Birmingham Airport train station.
Director of Women's Chess Chris Fegan writes —
The ECF is recruiting for two new crucial volunteer posts – Recruitment Officer and Women's Strategic Plan Implementation Officer. Both will report to the Director of Women's Chess. These are new, crucial and linked roles for the ECF's strategy of gaining new members for over-the-board graded chess (in all the categories) and also for the long-term task of recruiting new members as supporter or family members who will mostly play either socially or online – the ECF needs to change and evolve with worldwide trends.
The ECF has recently launched its Internet Chess Service, and there is huge potential for now attracting many new members who may not wish to play over the board rated chess, but enjoy chess socially or online. The new Recruitment Officer will help to recruit members of all ages and genders and report to myself, and will work closely with the new Women's Strategic Plan Implementation Officer in ensuring I put into operation the current consultation document, 'The Future of English Women's Chess', along with meeting agreed targets when this document is fully agreed and launched later this year. I am confident that both of these officers will play a large part in the transformation of ECF outputs and outcomes, and help to support a possible regeneration of chess playing activity in England.
Actually, years mean nothing. It's what's inside them – Simon Van Booy
The ECF Yearbook 2020 is on its way (electronically) to the printers. Platinum and Lifetime members will receive a free printed copy as always, but we have something up our sleeves that will enable ECF members to see this rather spiffing publication (the second edition of the new-style Yearbook) more widely than ever before – watch this space! – Andrew Walker, Yearbook Builder

Vacancies – please contact the ECF Office if interested
Finance Director – the Finance Director is responsible for the financial affairs of the Federation which includes the separate entities of the ECF, BCF and Chess Centre Ltd. Duties include the presentation of the annual accounts to Council and the production of regular management accounts to the Board, production of the Board's budget, coverage of VAT, corporation tax, staff pension scheme, banking arrangements and sundry investments. The Finance Director is responsible for the bookkeeping service and the Office Finance Manager. The full range of responsibilities can be found in Regulation No. 2 'Directors' and Officers' Responsibilities – Finance Director'. The current Finance Director, David Eustace who retires in October, is happy to provide further information – director.finance@englishchess.org.uk
Awards Committee Chairman – https://www.englishchess.org.uk/vacancy-chair-of-awards-committee/
Manager of Disabled Chess
Forthcoming events – https://www.englishchess.org.uk/event-calendar/
4NCL Women's League – http://www.4ncl.co.uk/fide/womens/information.htm
2nd 4NCL Easter Congress – http://www.4ncl.co.uk/fide/information_easter20.htm
Problem Corner
Christopher Jones keeps you on your toes with some more problems – here
Election of ECF Council Chairman
The process is underway with two nominations, James Conlon and Michael Farthing, who have set out their manifestos here – https://www.englishchess.org.uk/election-of-council-chairman/
Quarterly membership stats
The latest quarterly membership stats and and the 2018/19 membership profile are here (thanks to Director of Membership Dave Thomas for publishing these) – https://www.englishchess.org.uk/wp-content/uploads/2020/02/Membership-Analysis-Dec-2019-1.pdf and here – https://www.englishchess.org.uk/wp-content/uploads/2020/02/Membership-Profile-2018-19-1.pdf

If Carlsen did betting
World champion Magnus Carlsen has signed a sponsorship deal with Malta-based betting company Unibet. More here – https://www.sportspromedia.com/news/magnus-carlsen-unibet-sponsorship-deal-ambassador-chess
British Chess Educational Trust Awards
BCET Awards nominations are open until 31 May 2020. More details here – https://www.englishchess.org.uk/bcet-awards-2020/
Book Reviews
Gary Lane reviews Chess Tests by the late Mark Dvoretsky, Larry Kaufman's New Repertoire for Black and White and The Chess Scene by Alan Ruffle, a rare self-published chess book about playing club chess and coaching in England. More here – https://chess.business/blog/
Tweet of the month
John Saunders catches the mood at Gibraltar Airport after the Masters. Is this a new departure?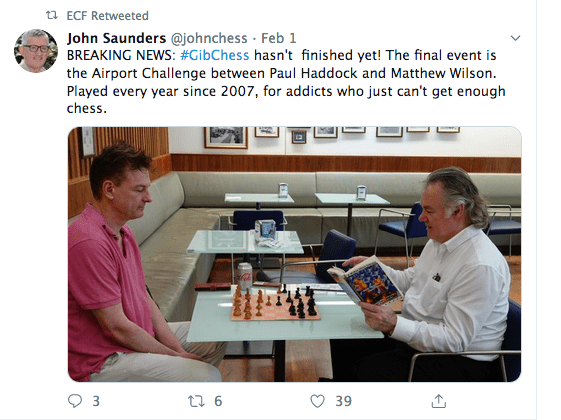 Warwickshire Congress Ed Goodwin writes — Thanks to sponsorship from the ECF, the Warwickshire Chess Congress is this year able to offer free entry to the first 20 female entrants as well as £10 discount for any further entries. There will also be a prize for the top female player in each section and the title of Warwickshire Women's Champion for the top female player in the Open Section. The congress takes place at The Citrus Hotel in Coventry on February 21st–23rd. Details are at http://www.congress.warwickshirechess.org
Have you made the grade?
January Grades are out – https://www.englishchess.org.uk/new-grades-are-out-5/
BBCA Rapidplay takes place on Sunday 23rd February in east London at the Hason Raja Centre, Vallance Road, London E1 5BW from 4pm to 8pm. More details here …
Sorry wrong blunder
Your editor has been on the naughty step after this self mate in the January newsletter
'World Senior Chess Team Championships … note that this is not a FIDE-rated event'
My apologies, this IS of course a FIDE-rated event, and I take full responsibility for the error.
Chess Magazine – February 2020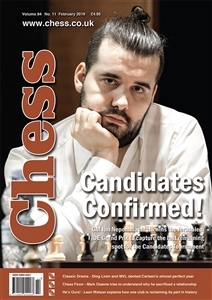 The February 2020 taster is here for download. If you like this and would like to read more, the full issue is available to purchase here
Obituaries
Robert Richmond – https://www.englishchess.org.uk/rip-robert-richmond-1956-2020/
Bob Long – https://www.ecforum.org.uk/viewtopic.php?f=46&t=10571&sid=a768e08cf6d9acfe1bac61599080c931
Derek Coope – https://www.ecforum.org.uk/viewtopic.php?f=46&t=10598&sid=a768e08cf6d9acfe1bac61599080c931
Yoseph Helbawi – https://www.englishchess.org.uk/rip-yoseph-helbawi/