Funeral arrangements are now known — Robert's funeral service will be at Wilford Hill Crematorium, Loughborough Road, Nottingham NG2 7FE [MAP] on Wednesday 19th February at 3.00pm. All are very welcome subsequently to come to The Beeches Hotel, 69 Wilford Lane, Nottingham NG2 7RN for refreshments. If you are able to email jt.swain777@gmail.com to indicate that you hope to attend, that would be helpful but is not essential.
---
Robert Richmond, who will be well known to many players and organisers, has sadly passed away at the age of 63. He will be greatly missed; friends have commented on Robert's sense of humour, how he was reluctant to talk about his own chess achievements – preferring to concentrate on how chess organisation could be improved in the future – and how he often encouraged others, being very willing to play and help those much weaker than himself, including juniors. In short, as one friend put it succinctly, he was 'a genuinely all-round nice guy'.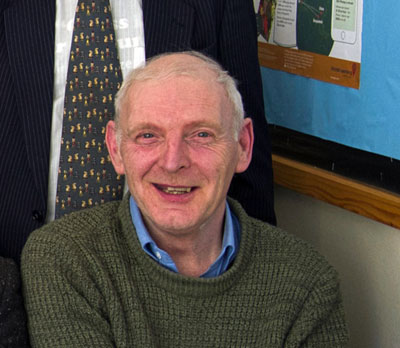 Robert [pictured above, photo by Brendan O'Gorman] played for many teams over the years, most recently for West Bridgford Chess Club in Nottingham and on one of the top boards for Nottinghamshire, where he also spent his junior years. As a student, he played for Pembroke College Cambridge and Cambridgeshire and in his working years other teams in East Anglia, Buckinghamshire and Leicestershire. He was a strong player who was awarded the FIDE master title due to his second place in the 2004 FIDE World Major (Smith and Williamson); this was awarded only recently due to an administrative oversight, but, with typical modesty, Robert rapidly declined the title on the grounds that his highest rating was 2260, 40 points short of the normal requirement.
Robert was even better known as an organiser. He became President of the Cambridge University Chess Club 1977-78, Treasurer of the Southern Counties Chess Union 1979-83 whilst he trained as an accountant and was one of the founders of the East Anglian Chess Union in 1983, serving as Tournament Organiser, Grading Secretary and Bulletin Editor at its inception. His accountant's skills were no doubt invaluable when he served on the BCF and later ECF Board as Finance Director 2003-2008 (and Acting Finance Director into 2009). In his later years, Robert returned to Nottinghamshire and served the Nottinghamshire Chess Association in many capacities, including President 2010-13 and Congress Director 2006 to the present. More details may be found in the History section of the Nottinghamshire Chess Association which Robert himself researched and posted on the website in September 2019 and where one of his best games, annotated by Robert himself, may be found at
Our condolences go to his brother Peter, sister-in-law Jane, niece Hannah and all his family and many friends.
— John Swain