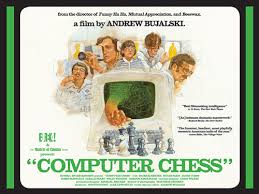 A one-off screening of Andrei Bujalski's acclaimed film 'Computer Chess' is taking place on Tuesday 29 July at the Pickle Factory, located opposite Oval Space, 13-14 The Oval, London E2 9DT, starting at  8.30 pm (doors open 7.30 pm).
ECF members can book tickets at the discounted price of £5: to reserve a seat please e-mail the organiser at vp@ovalspace.co.uk , quoting your membership number and then turn up and pay at the door.
The film has received a very good reception at film festivals: it is set over the course of a weekend tournament for computer chess programmers in the 1980s.
Further information and a film trailer can be found here.